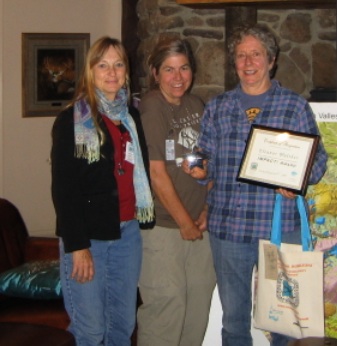 1990 NMNWSE President Eleanor Walther (right) was presented the 2010 IMPACT! Award at the 2010 NMNWSE Annual Meeting by Commissioner Lynette Justice (left) and 2010 NMNWSE President Laurie Marnell (center).

Eleanor Walther has been a member of NMNWSE for almost 30 years and served in a variety of positions. Since 1991, she has been on the organizing committee for the Albuquerque Expanding Your Horizons conference for 6th-12th grade girls to encourage them to pursue non-traditional careers. Additionally Ms. Walther has been involved in the Supercomputing Challenge, a year long program for mid and high school students to promote math and science, and Project GUTS (Growing Up Thinking Scientifically), a summer and after-school science, technology, engineering and math (STEM) program for middle school students. In June 2010, Eleanor worked with 21 female teachers with limited computer modeling and programming skills to to become GUTS Club leaders and/or Supercomputing Challenge partners -- Ms. Walther's depth of knowledge and friendly, comfortable personality made the training a success. "Eleanor is an exemplary model in her extraordinary efforts in furthering the goals of the New Mexico Network for Women in Science and Engineering," states Celia Einhorn, program manager of the Supercomputing Challenge. "Her outstanding participation in both Project GUTS and the Supercomputing Challenge has been an exemplar for women for over a decade."


Click here for the full news release summarizing Eleanor's accomplishments.
Congratulations Eleanor!